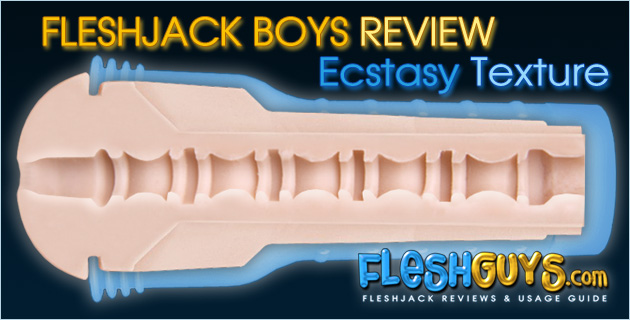 Review: Fleshjack Boys Ecstasy Texture (Brent Everett)
---
The Fleshjack Ecstasy insert accommodates a relatively heavily textured canal consisting of six chambers, which are formed by five 0.4 inch (10 mm) wide waves. The canal diameter is about 0.6 inch (16 mm) at the widest points and 0.4 inch (10 mm) at the tightest points and is thus comparatively tight. The side-walls of the inner canal are smooth and covered with one or two 0.15 inch (10 mm) cross ribs in the middle of each chamber.

The Ecstasy canal is exclusively available in combination with the personal butt orifice of the gay porn star and Fleshjack Boy Brent Everett.
Penetration into the entry passage of the Ecstasy canal is accompanied by a pleasantly tight sensation. The penis then reaches the middle of the first chamber and at this point the single cross rib slides pleasurably tight over the penis head, creating a very noticeable stimulation. The wavy constriction at the passage to the next chamber acts as a soft cushion and strokes rather gently over the surface of the penis head. After that, you feel the double cross rib in the middle of the second chamber, which also generates compact and intensively smooth stimulation effects upon pass through that are even more intense than in the first chamber.

This is followed by a short and gentle relaxation phase between the chambers up to the next double cross rib inside the third chamber, which again generates very noticeable stimulations. In this way, a continuous alternation between single heavy stimulations and gentle stroking emerges, accompanied by repeating increasing and decreasing of the tightness sensation which, in its entirety, results in a fantastic massaging effect on the penis surface.

With an average penis length (5.9 inches / 15 cm), it is possible to penetrate the first four chambers although the fifth and sixth chambers are unreachable. This however is sufficient for the terrific stimulation and you do not miss anything because the texture simply repeats in the rear canal part. The suction effect inside the Ecstasy canal is excellent because plenty of vacuum can accumulate, especially in the two unreachable rear chambers. After some forward and backward movements inside the canal, powerful suction is created which has a positive impact on the overall stimulation.

Plenty of lube and sperm residues can gather between the cross ribs and inside the chambers and therefore the clean-up is a tad laborious. In order to clean the canal thoroughly, you should briefly turn the insert inside out. The drying time of the Ecstasy canal is roughly average, lasting about 3 - 5 hours.